September 21st 2012 21:02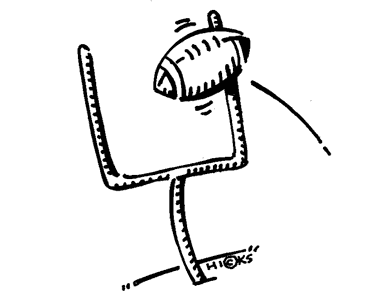 Coming into the 3rd week of the NFL season, which actually started last night, there were the same amout of 2-0 teams as 0-2 teams (6). That means there are 20 teams that are 1-1, the most ever. There are definitely surprise teams that fall into each of these categories. Who saw the Cardinals going 2-0 or the Saints going 0-2? The later is more believable because of all the offseason stuff. After winning week 1 Tom Brady and New England looked like an easy 2-0 start until those pesky Cardinals beat them in their home opener.
Plenty of story lines will be unveiled throughout Sunday and Monday night. Here are the things I'm looking at (including some college action).
- Will the replacement referees give the NFL more reason to lean towards a agreement with the normal refs? Or will these replacements step up and take control of these games? Players and coaches have both been taking advantage and intimidating the replacements. As long as us fans continue to watch, which there is no doubt that we will, the NFL has the upperhand. There may be some horrible calls or wasted time, but the play is still entertaining.
- Atlanta Falcons vs. San Diego Chargers. Both teams are 2-0 and have looked very impressive. Matt Ryan looks like he is ready to take that next step to being elite and bring his team with him. Julio Jones is breaking out to be amung the top receivers, while the Chargers are the hardest team to ever figure out. They normally get off to horrible starts but still make the playoffs where they lose (so do the Falcons). Then you have last year where they didn't make the playoffs in their weak division.
FALCONS WIN
- Saint Louis Rams vs. Chicago Bears. Both are 1-1 and the Rams could easily be 2-0. After only winning 2 all of last year Stl looks much improved in Sam Bradford's 3rd year and under Jeff Fisher. The Bears beat the Colts who also only won 2 games last year and have a rookie qb, needless to say not an impressive win. Then they go out and get manhandled by the Packers. Cutler can't throw 4 interceptions and get sacked 7 times if they want to avoid falling to 1-2. Don't think its as bad but still no protection leads to a
RAMS WIN
.
- Kansas City Chiefs vs. New Orleans Saints. No team needs a win more than Drew Brees in the Saints. With all the offseason issues they have started as bad as can be. 0-2 with absolutely no defense having the Chiefs coming into town is perfect timing. KC has looked absolutely horrible; if they pull the upset off then New Orleans fans my as well take a lesson from Cub fans, "There's always next year." Chiefs are too awful and fall to 0-3 as
SAINTS WIN
big.
- Peyton Manning, more week 1 or 2? Really the only bad part of week 2 was the first quarter where he was obviously confused. Give credit to the Falcons defense and to Peyton for coming back and making it a competitive game. The answer is he is still Peyton Manning and will be fine.
HOUSTON WINS
though to go to 3-0.
- Will Jet's fans start chanting Tebow? Sanchez better hope he shows more of week 1 than 2. All I have to say is I hope its not until they face a good defense that can crush him.
JETS WIN
with no Tebow chants at least for another week.
- Saturday night packed with ranked games, which will I watch? LSU facing their first text in Auburn could be a good one but probably just one to watch until others get started. 30 minutes into that one Notre Dame (11) hosts Michigan (18) where the Irish will show if they are for real this year and Denard Robinson will try to come back and show what he's got. Don't know how good Oklahoma is as number 6 but they host Kansas State in a top 15 matchup. Then comes the one I'm definitely ready for, Clemson (10) at Florida State (4). The Tigers have looked really good while the Seminoles have also while not facing any real competition. Finally to close off the night and send me to bed ready for the NFL is Arizona (22) against the high power offense, lead by freshman qb Mariota, of Oregon (3).
- Will USC bounce back and crush CAL? Most likely but being upset again will be fine by me. Will any other top teams get upset? Possibilities for the upsets are Mizzou trying to get their first SEC win over South Carolina (7), an improved Vanderbilt team going down to Georgia (5), and Oregon State looking to do in for the 2nd time already this year against surprising UCLA (19).

Add Comments