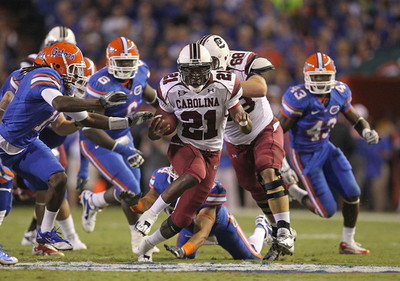 I know the NBA season started last night with the Heat defending their title, but I'll let more games go by to start on the season. Instead I've chosen a new player of the week. Normally they perform greatly and help their team win; this weeks winner is a little different.
Name: Marcus Lattimore
Position: RB South Carolina
Year: Junior
He was one of the top running backs in the nation the moment he stepped on the South Carolina campus; having a good running back in the SEC is very important. He showed why the Gamecocks wanted him, by running for over 1,100 yards and 17 touchdowns. His 2nd year was going just as well until an injury ended his year. Lattimore came back this year ready to go and helping his team off to a fast start. After a couple of losses it was time to face Tennessee. Though the short losing streak was over, it wasn't time to celebrate.
The season once again ended for Marcus, this time with an injury that no one wants to watch happen again. All the players and coaches from both teams surrounded him on the field, showing their respect for such a great player and person. You could see the emotions on everyone's face, and you heard the respect from NFL players and opposing coaches. What he has done in a short time in Columbia makes everyone hope for his return to the field. A crunching hit on the leg also happend to Willis McGahee while he was at the U; maybe Lattimore will call him up and be back next year banging his way against SEC defenses or in the NFL.

Add Comments