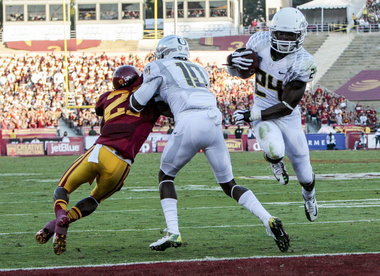 Even after a couple of marks in the L column for USC, the matchup against Oregon last week was huge. The Ducks were easily the favorite though they were on the road, but it was still gonna be a tough challenge. I had to work so I recorded the game; there was so much speed and so many big plays that I watched it in 1 hour. USC racked up over 600 yards while Oregon added over 700.
The score ended up being 62-51 Ducks. A lot of that had to do with Kenjon Barner, and that is why he is my player of the week. He carried it a wopping 38 times. Everytime him or one of his teammates lost yards on a play, they would come right back with a play of 10 plus yards. Barner ended up with 321 yards rushing, which averages out to 8.4 yards a carry. That is pretty insane for having carried it so many times.
He also added 5 touchdowns. We all know he has crazy speed, but there were some runs down the sideline where you had no idea how he made it through all the bodies without stepping out or being tackled. Kansas State's Klein still leads the Heisman chase, but Kenjon Barner just shot himself right into the picture.

Add Comments