Week 7 Brings It Again
October 23rd 2012 16:44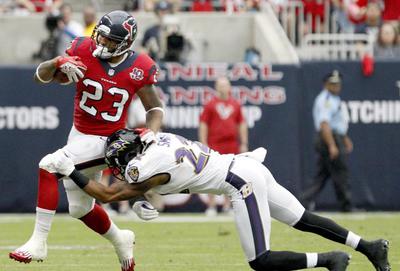 The NFL keeps us watching each week for many reasons; Week 7 did not disappoint. There were great games (Giants vs Redskins), injuries (Jones-Drew), and some great plays. Once again I went through all the excitement and picked out what I believed to be the biggest stories.
1) Texans Dominate Ravens- Terrell Suggs was back for the depleted Baltimore defense, but he wasn't at 100%. He had a good game but wasn't even close to being enough against Houston. Last week they got housed in their own house by Green Bay. This week they did the housing by winning 43-13 and holding Joe Flacco to a QB rating of 0.3. The Texans defense showed up again adding a safety and a interception for touchdown from Johnathan Joseph. The NFL is an update league so here's an update since last week; Houston is still really really good.
2) Pats Survive Jets in OT- Last week the Patriots squandered a lead against Seattle leading to a 3-3 record. This week they tried to do it again against the Jets. How do you let Mark Sanchez look like Joe Montana out there? New England won in extra time some how but that defense needs a lot of work. Tom Brady still good but not looking great. Instead of leading a game winning touchdown drive in regulation or in OT, Brady only got them to a field goal. It was good enough as Sanchez was sacked and fumbled to end it. The Patriots' defense won them the game? No, but who did?
3) Arizona Loses Again as Vikings Keep Rolling- The Cardinals started the season 4-0 and had one of the best defenses in the league. The defense is still there, but the W's have disappeared. Sunday's loss to Minnesota made it 3 in a row and brought Arizona to 4-3. On the other side the Vikings continue to pile up the victories. Now 5-2 they are 2nd in the NFC North behind the Bears and in front of the Packers. Ponder was terrible (58 yards) but their defense was good once again (Int for touchdown) and Adrian Peterson looks back to top form. Will Arizona continue to fall in a tough division? Probably. Will the Vikings stay strong in another tough division? Probably not, watch out for Green Bay.
4) 2 In a Row For the Saints- Just the opposite of Arizona's start is what New Orleans has done; with their 2nd win in a row they move to 2-4. Tampa Bay didn't go away quietly on Sunday though. If it wasn't for Vincent Jackson having large feet and another receiver running out of bounds, overtime would have been calling. A win is a win though and the Saints aren't in a strong division, outside of the only unbeaten left in Atlanta (had a by this week). Bad news though is that their defense is still absolutely terrible and Jimmy Graham did not play this week, will he next week? I hope so (on my fantasy team). Can New Orleans make the playoffs somehow? No
5) Chris Johnson Busts Out- Where has the speadster in Tennessee been the past year and a half? That is the question tons of Titan fans and fantasy owners have been asking. He finally showed up Sunday with 2 tds on 195 yards including a 83 yard score. He Chris Johnson back or was it just a fluke against a terrible Buffalo defense? Like I said before, this is and update league so I guess we'll find out in 2 weeks against Chicago (next week is the Colts).
---

subscribe to this blog