Backup v Backup
November 20th 2012 18:31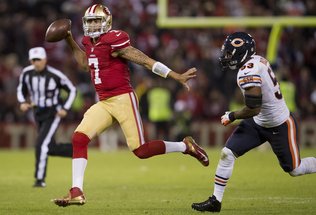 Thanksgiving is just a few days away and that means turkey and football. Here are the highlights from the week before.
1) Ravens D Stops Pitt- Big Ben was out along with many other quarterbacks this week, and he may be the most important of them all. The defense is still good but not like in the past. The Ravens offense on the road is terrible so only 13 points wasn't a surprise, but their defense did step up against a backup quarterback. The question is can they do that against a legite starter?
2) Kaepernick Wins Battle of the Backups- The Bears faced another top team and defense in primetime and lost. Last week it was in the rain to Houston and this week the 49ers ran and threw all over them. Neither team relies on the QB to do a lot; they run the ball and play amazing defense. The only problem is that while San Fran was running the ball well and man handling the Chicago offense, the Bear's defense was getting pounded. Gore had a big day and Kaepernick looked amazing. QB controversy now in the bay area??
3) Saints Move to .500- Starting 0-4 is not a good sign, but winning 5 out of the next 6 is. Can New Orleans make a playoff push? It's going to be tough with Seattle and Chicago/Green Bay taking the wild card spots, and the division is over. Even if they don't make it, no one wants to face Drew Brees and that offense.
4) Falcons Bounce Back- Coming off the 1st loss of the season could Matty Ice and company make a statement? Well the QB could not, throwing 5 interceptions and no touchdowns. Ryan had never thrown more than 3. It was against the Cardinals who still have a good defense, but their offense is terrible and Atlanta took advantage. 9-1 and already in the playoffs, the Falcons still need to improve and be ready for January.
5) Pats Crush Colts- It was close at first with Luck driving Indy down the field for a couple of touchdowns. Then came the punt return and some interception returns for touchdowns. The Colts are a good story but not quite a real contender. They will still make the playoffs with a weak schedule outside of Houston, who looked really beatable. Now how will New England do with the absence of Gronk? What a fluke injury, oh well.
---

subscribe to this blog