Although he is a very explosive player who is a terrific pass-catcher, I am really not a big fan of
Felix Jones
as a player. I think he is an average running back at best, and the Cowboys need to get a new feature back to help out
Romo
. His RB Efficiency score last year was a below-average 46.6, but he is still a more than capable number two back in this league.
It may seem like I'm hating on Jones right now, but it's just that I don't think he is a consistent enough rusher. There is no doubt that Felix Jones is one of the most explosive backs in this league, but that really doesn't mean much if you can't consistently help your team get yards on the ground. He's good enough that opposing defenses definitely have to account for him on every play, but he's not the guy who strikes fear into opposing defenses. They know that they can leave six men in the box and can still survive the encounter.
That's not to say that Felix Jones is a bad player by any means, but people who believe that he is a capable feature back in the NFL think too highly of him. While he is a good option out of the backfield- his receiving skills are huge- pure runners are the only running backs with legit value in the league today with all the passing going on. Jones has value, but he obviously doesn't command the respect that a guy like
Jonathan Stewart
does.
For as elusive as he is, Felix Jones won't be a star back in my eyes until he can consistently churn out results. For now, he is a good back who is an excellent number two running back for a team who needs that extra dimension. The
Cowboys
need to find more of workhouse back so that Jones can be a more effective player.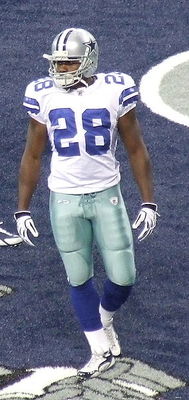 Explosive, but not a star back