10/2011 Historical Player Profile: Johnny Grubb
October 5th 2011 15:27
A former first round draft pick, Johnny Grubb spent 16 seasons in the Major Leagues with the San Diego Padres, Detroit Tigers, Cleveland Indians, and Texas Rangers while winning a World Series ring with the Tigers in 1984. In 1974, Grubb was an All-Star in the only season that he would be on the All-Star team.
Overall in his career, he was a very patient hitter who was also above average (120 career RC-plus). However, Grubb was also a terrible defensive player who did not have much power at all (99 homers). In 1978, he was traded from the Indians to the Rangers for two prospects after spending only one full season in Cleveland. He played 44 games for his new outfit, and he had the best season of his career (3.4 WAR) while with the Indians. Grubb had more walks than strikeouts, and that's actually not surprising because he his career walk percentage is very close to his career strikeout rate and is in fact higher than it by .1%.
In his All-Star season of 1974, Johnny Grubb had a 2.5 WAR with a 120 RC-plus on the strength of a high OBP (.355). I really don't think he deserved to be an All-Star, because his year was only a little bit above average for a starter. I mean, that's a pretty good descriptor for his career; above average but nothing special. However, he was a good bat off the bench as a pinch-hitter towards the end of his career, and that was his main contribution en route to winning a World Series.
1986 was Grubb's swan song as he had a 2.7 WAR while hitting .333 with 28 walks and 28 strikeouts. He also had a career-high 172 RC-plus with surprisingly decent fielding with a .412 OBP. After the 1987 season, Johnny Grubb retired from the MLB.
The statistics above tell us that Johnny Grubb was a solid player over a lengthy career and was successful in winning in a World Series ring. That's the kind of career every athlete hopes they have in this regard, and Grubb was certainly a useful player for each of the four teams he played with.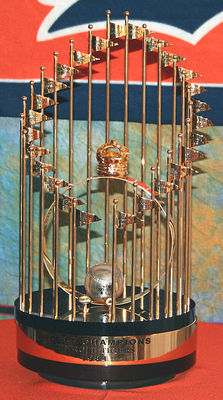 Helped them bring it home
In memory of Brendon Holtzen, a man who touched many hearts.
---

subscribe to this blog