Uneasy situation in Montreal
December 11th 2011 15:24
The chances of defenseman
Matthias Ohlund
playing this season are slim, as he hasn't skated for several weeks due to pain in his knees. He had knee surgery in mid-October, and it looks like GM
Steve Yzerman
will stand pat. There really is no reason to do something else, as
Bruno Geravis
has played well as a depth defenseman. I think the furthest Yzerman should go is call up
Radko Gudas
if things get worse on the blue line.
Before the
Carolina Hurricanes
were able to dump off
Tomas Kaberle
's contract on the
Canadiens
shoulders, the 'Canes tried to trade the $4.25 million man to the
Blue Jackets
. Carolina tried to package a second rounder and the 33-year-old for center
Derick Brassard
, but the Blue Jackets rejected this offer outright. Kaberle had a -11 this season with the Hurricanes, and it really seems like the only way to improve this sagging team is a complete overhaul. It may seem imprudent, but this strange collapse may be for real. The key players, such as
Eric Staal
, are here to stay, but guys like Kaberle and other older role players are expendable. I still can't believe the Canadiens would ever take the under-performing, aging Kaberle and- most of all- the contract that comes with him.
The team that obtained Kaberle, the Canadiens, are interested in shaking things up as well. The fan base has been calling for
Jacques Martin
's head, but there are also rumblings that GM
Pierre Gauthier
's job security is falling.
Patrick Roy
and the surprise firing
Randy Carlyle
are two names circulating around Martin (the vultures around a "corpse"), and even some players have said that Martin has a poor system that is too restrictive. The aforementioned Blue Jackets were among the teams who made head coaching changes, and they have gotten off to a hot start with their new coach. The Canadiens are coming off of a shootout loss against the Jackets, and maybe firing their head coach will help them out; I certainly think it will.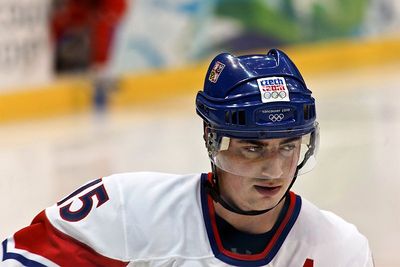 Traded to Montreal
---

subscribe to this blog