The Desk: QB Efficiency Statistic
January 27th 2011 15:21
One of my friends has proposed a statistic that I would like to refine, with the help of you guys. He calls it QB Efficiency. He basically took a QB's yards per attempted pass, multiplied it by the number of touchdowns, divided it by the number of picks, and used 62 percent completed passes as par with anything over 62 percent counting to the QB's total, and anything lower counting against that QB. It is QB rating with a twist. A QB's yard per carry is added, and a QB's rushing touchdowns are with the passing touchdowns. A QB's fumbles are also subtracted. Again, I want you guys to also help refine what he has used.
Let us use Rodgers, Vick, and Brady as our three examples. Brady has a 75, Rodgers has a 29.4, and Vick has a 36.3. This seems like a truly messed up statistic because it favors certain statistics far too much. Now, let us change it by using interception rate and touchdown rate. Vick now has a 33.75 as we have now only add rushing touchdowns instead of multiplying them. Rodgers has a 30.6, and Brady still has a 75. Either this statistic overvalues certain facets of the game, or there is a true trend here. Let's investigate further.
According to QB rating, the order is fine except for Vick and Rodgers. This happens even though Rodgers has the better net running points by 0.8 The only category in which Vick bests Rodgers in the passing portion of this statistic is interceptions. This means that we are putting too much weight into picks, therefore, we must decrease the importance of interceptions.
So now, let us multiply the INT% by .75 to cut its level of importance. This gives Rodgers a 38.1 and Vick a 42.9. All that addition did was make it worse. So all we did was prove that our second rendition of the formula was the most accurate, and that Vick had the better statistical year than Rodgers with Brady crushing all competition in the stat world.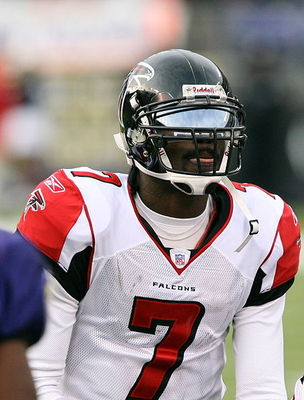 9 Rushing TDs
---

subscribe to this blog