The Desk: New Quarterback Mistake Factor Stat
January 26th 2011 14:58
A lot of people are talking about the lack of interceptions thrown by certain star quarterbacks- Tom Brady and Michael Vick- and the many number of picks thrown by other stars- Drew Brees and Peyton Manning. I am trying to create a statistic that incorporates yardage and touchdowns to find out a QB's true "INT Factor". There is a far greater chance of an interception when you are launching it deep- Peyton- than it is to throw a dinky-do pass- Brady. I am trying to come up with a formula that normalizes the variables involved.
The first proposed way is to use this formula (yards/interceptions) (TDs/INTs). Let's use the following formula for these quarterbacks: Brady, Vick, Peyton, Brees, and Rodgers. Brady's score is 984, Vick has a 506.5, Peyton has a 278.4, Brees has a 211.5, and Rodgers has a 359.1. As you can see, this statistic helps normalize the stats to some degree, but every statistic is flawed in away. This stat does a good job of finding a balance, but it really should only be used as a way of determining a quarterback's mistake factor.
Let's try it with this new formula: (yards per completion/INTs) (TDs/INTs). The numbers won't be as big here as we are working with smaller numbers, so there won't be a score of 984. We will obviously use the same quarterbacks as they are the control group. Yup, science is important in sports. Brady has a score of 12, Vick has a score of 5.66, Peyton Manning has a 2.55, Brees has a 1.97, Rodgers has a 3.69.
If we multiply each score by one hundred, we see that these scores are very similar to the scores above. It seems like both formulas are interchangeable, but the second formula is more accurate. Most quarterbacks average 12 yards per completed pass. If a QB throws 350 complete passes in a season, then that's 420 yards right there. It is more accurate to go by average yards per completed pass. The touchdowns and interceptions aren't normalized per pass, so the first formula is better in this instance as we are not looking to average everything. We are just looking at the big picture, for now.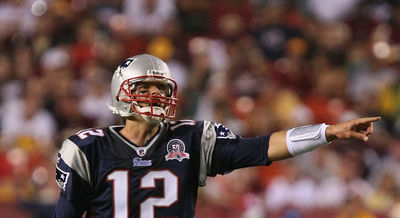 Only 4 INTs to 36 TDs
---

subscribe to this blog